Posted by Team Superwoman
On August 8, 2016
6
Hi Guys,
Been gone for a while right? yeah I know I know. Its for the greater good. Trying to put this site in order to serve you better. However you can keep in touch by liking our facebook page HERE  
as our magazine Tour is on going so those on our social media platforms are more in touch with us. For those who have subscribed, a soft copy of the mag will be sent to you soonest. Thank you for sticking with us.
Now lets get to the matter of this post. Basic knowledge a woman should have to better defend herself in-case of an attack..
GO FOR THE EYES
No matter the size of your opponent, their eyes are just as sensitive for everyone and you don't need to be super strong to do this."
How? Use open palms, both if possible, with fingers directed towards the eyes. Using the same position of your palms (and at the same time) you can hit or strongly push away the nose or chin with the heel of your hand.
HIT HIS GROIN
You can hit groin area after a shot to the eyes (as the attacker covers himself) or as a first attack.
How? Use your intuition and do what feels right in the quickest possible way. The hit should be sharp, straight forward and as strong as possible.
"You can use your foot, instep, a shin-straight whipping motion upwards or a knee strike (with the kneecap or the surrounding area)."  You can also use your hands if you're not able to use your legs. Pull, punch or twist using your palms or a closed fist. Do whatever you need to do – don't hold back.
HIT HIS NOSE
"changing the level of attack- high (face) to low ( groin), low to high and so on and so forth until you're free and can run away."
How? Use a hammer strike motion by using the heel of your hand while your clinching your fist. Magda says,"The pain is extraordinary – no other body part hurts quite the way the nose does. In no time, it will become difficult and then impossible to breathe through the nose. In short, the nose is the facial pathway to debilitating your aggressor without putting his life in immediate danger."
HIT HIS THROAT
The throat is another sensitive point of the body. If pushed hard enough the airways could close, making it difficult to breathe.
How? With an opened palm, use your hand and push your fingers inside the throat. Do this while pushing your attacker away. Magda says, "It MUST be done quickly and all at once to both, surprise him, and succeed."
HIT HIS KNEES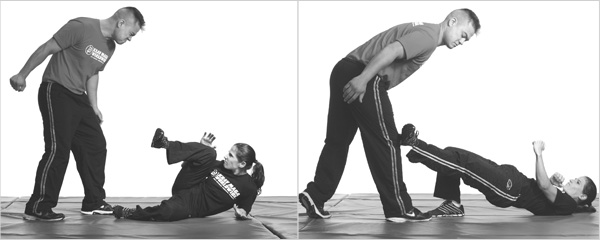 "A strong kick towards the legs and knees might stop the attacker from running after you. But large forces are required to fracture the knee joint."
How? Turn your head quickly to get a good view of where to strike and act immediately. "Use your foot with a horizontal stomping kick directly to the knee," says Magda. Never resist action.
CREDITS
Sofeminine
Subscribe to our site and get our updates directly to your inbox.
Join Our Online Community For Ladypreneurs and Career Women
Follow us on Twitter @superwomanorg
Follow us on Instagram superwoman.com.ng
Like us on Facebook Facebook.com/superwoman.com.ng
Follow us on Google plus Superwoman.com.ng
Subscribe to our  youtube channel

Send us a mail contact@superwoman.com.ng
Read any post you like? share and drop your comments
And contact us If you would love to advertise on our magazine and/or site